Tables for the Finer Things | 5e Random Tables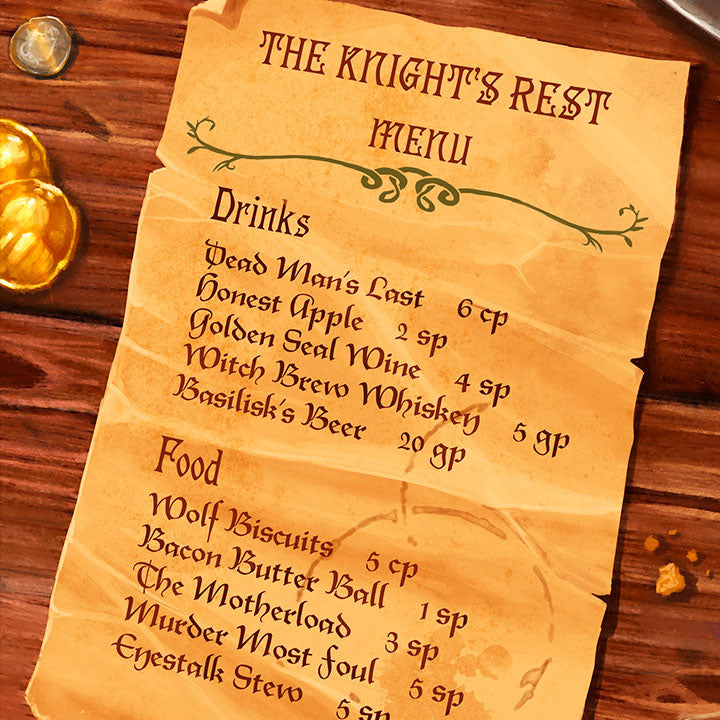 By Eric Gronske
These 5e random tables can be used to enhance your game by providing new and interesting items for your players to encounter. Feel free to customize these 5e random tables as desired to fit your and your players' playstyle.
By the way, if you'd like to get instant access to 1000s of free 5e resources, don't forget to sign up for the DM Lair Newsletter. We'll even send you new stuff every week!
Archmage's Belongings
Use these should the characters find themselves in the lair, home, or study of an archmage. A reasonable archmage would have several of these items, but that is up to the game master's discretion.
d10

Item w/ Description

Cost

1

An Astrolabe

A mysterious orb that illustrates both extraterrestrial bodies and alternate realms.

650 gp

2

Arcane Scales

A set of floating scales which measure the balance of the elements, or that of the various schools of magic.

300 gp

3

Chemistry Set

A bench covered with various pipes, beakers, and bubblers filled with glowing fluids.

75 gp

4

Crystal Ball

An orb that is stored as numerous glass shards in a small chest that reassemble upon command.

100 gp

5

Staff/Scepter

A large, black staff that moves about on its own when left unbothered.

250 gp

6

Pet Bird

A brilliantly colored bird with long flowing feathers that doubles as a wizard's hat; it can magically transform between its two forms of its own accord.

30 gp

7

Magnifying Glass

A small monocle that adjusts to the user and whatever they are looking at, always perfectly creating a clear magnified image.

200 gp

8

Chest of Small Tools

A small metal box that scuttles about on small mechanical crab legs.

60 gp

9

An Old Broom

It once flew, but no longer functions now; this relic was once an integral part of many adventures.

10 gp

10

A Worn Teaspoon

This spoon fixes drinks to the user's liking upon a few swirls.

25 gp
Jewelry and Gemstones
Use these if the characters are shopping at (or robbing) a jewelry store. Alternatively, if a character has snuck into a noble's room in search of jewelry, consider these additional options to those offered in the Game Master's Core Rulebook.
d10

Item w/ Description

Cost

1

Ruby Earrings

A pair of ruby earrings, which are cut and stylized to appear as roses.

5,000 gp

2

Encircling Gold Bracelets

A series of interconnected gold bracelets, which move about like a spring.

500 gp

3

Silver-and-sapphire Necklace

A lovely necklace of silver, with a sapphire tear at its end.

2,500 gp

4

Lotus Amber

A fist-sized piece of amber carved into the shape of a lotus flower.

300 gp

5

Fractal Diamond

A strange sight, but several rising spires of diamond surround a large central spike. The piece reflects an array of colors.

7,500 gp

6

Ring of Pearls

A polished pewter ring affixed with pearls along its surface.

450 gp

7

Opal Pendant

A large, ovular opal affixed to a silver backing with silk fabric that forms a ring to go around one's neck.

1,250 gp

8

Garnet Crown

A golden crown affixed with numerous blood-red garnets; the rim of the crown is lined with soft tiger fur.

7,200 gp

9

Turquoise Bangles

Two wristlets in the shape of snakes eating their own tails; the bellies of the snakes are gold, while their backs are covered in turquoise scales.

800 gp

10

Amethyst Headband

Constructed entirely of pure crystal, this circular loop of rich purple is meant to hold back the hair of an exalted noble.

6,800 gp
Royal Outfits
Use these if the characters are in search of a fancy outfit for a ball or other social event. Alternatively, if a character has snuck into a noble's closet in search of expensive clothing, consider these as special options.
d10

Item w/ Description

Cost

1

Starlight Dress

A long, tight dress of indigo and rich purples, dotted with small pieces of silver in the shape of twinkling stars.

400 gp

2

Jet-black Suit

A pure black three-piece suit, tailored to perfection; a bright red rose rests upon its lapel.

200 gp

3

Gown of Inferno

A billowing gown of vibrant reds, oranges, and yellows, meant to evoke the look of a burning fire.

500 gp

4

Drifting Tunic

A relatively simple tunic of blue coloration that appears to drift about as if underwater.

300 gp

5

Ceremonial Armor

Constructed from softer leather, this beautifully crafted garb may not offer protection, but its embellished stitches, bas relief glyphs, and stoic design make it stand out as a cultural symbol.

750 gp

6

Royal Hunting Garb

A hooded jacket with edges embroidered to look like vines and arrows. Matching toughened leather gloves and boots are well-kept despite signs of past use.

175 gp

7

Silk Nightshirt

A slightly off-white and incredibly soft shirt that drapes down towards the wearer's knees. A fuzzy hat with a small ball on top is included.

50 gp

8

Floral Kimono

A beautifully crafted robe, covered in numerous stitched and painted flowers. A fabric belt runs around the waist, looking like a raging river of colors that flows around the body.

225 gp

9

Fur-lined Cape

A long and lavish cape of crimson, its edges lined with puffy, speckled fur; the buttons that connect the cape at the neck are imprinted with two dragons facing one another.

550 gp

10

Dragonscale Jacket

A jacket made from solid, resilient leather, topped with treated and cut dragon scales for style and protection.

675 gp
Get Access to 1000s of Free 5e Resources!
Sign up for the DM Lair Newsletter to instantly get access to our entire library of free 5e resources. We'll also send you new resources every week!