The Noblest Villains | 5e Villains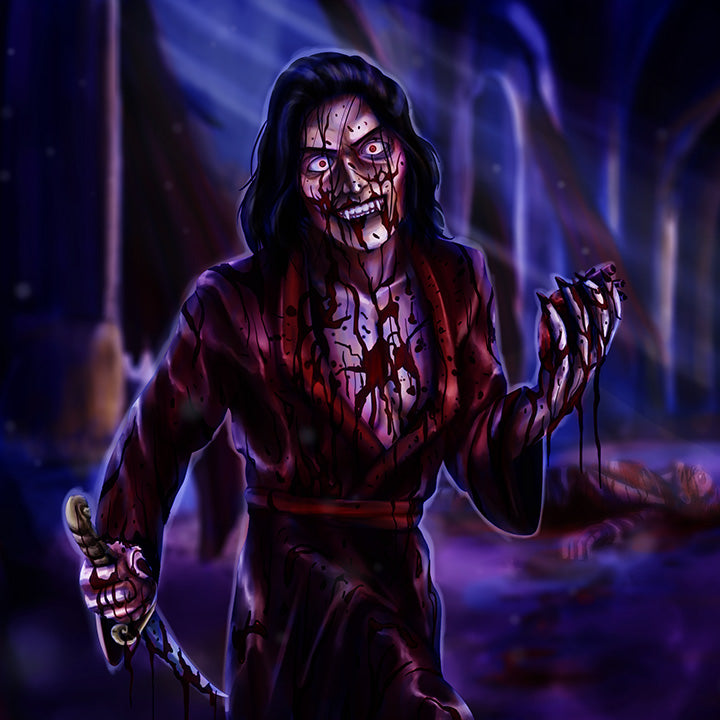 By Owen Davies
Looking for some cool 5e villains to challenge your RPG players with? Use these 5e villains to craft adventures, adventure arcs, or even entire campaigns!
By the way, if you'd like to get instant access to 1000s of free 5e resources, don't forget to sign up for the DM Lair Newsletter. We'll even send you new stuff every week!
The Noblest Villains
At some point in their careers, adventurers will face challenges and quests from those of a more noble position than themselves. In many forms of fiction, these nobles have different types of powers and capabilities that adventurers may lack. The villains below are designed to take this concept and add flair inspired by different genres: Gothic Horror, High Fantasy, and Fairytales.
The Mask (Marathok)
Male flesh golem, neutral
A sleek silver mask shines in the pale moonlight, a bright glint showing its true metallic nature. Underneath the mask is a set of eyes that look like a milky white void. The eyes are unnerving. There is a strong and powerful pain deeply set into them, the mere sight of which shakes the soul to its core. The possessor of these eyes is a strong and imposing frame that looms and commands over the entirety of the room.
Description. Covered in thick stitches that are highly reminiscent of his origins, Marathok chooses to cover his frame in clothes that indicate nobility but is always careful to hide the ugly scars of his creation. Marathok also wears a silver mask that covers his face;  however, it still allows his cloudy eyes to be seen. Marathok's voice is extremely hoarse. It almost sounds like air being forced through his throat with great pain, a property that he has been able to harness as a weapon.
Motivation. From the outside, Marathok's persona of The Mask may seem harmless as a noble, but he wishes to find for himself the ability to create another like him, someone else who has the intellect and power that comes with being a creation of a humanoid. Marthok just wants to find the perfect components to create more like him, a family that he can call his own.
Method. For some time, Marathok has been stealing corpses from local graveyards. For this, he has utilized a small collection of assassins to help complete the process. Recently, he has been ramping up his methods by taking people walking the streets at night, utilizing his strength and access to magical items. He has evaded capture due to the persona of The Mask, a secretive noble within the city.
Means. When arriving in the city, Marathok took advantage of an elderly noble and unwittingly took on the position of their long-lost child. By doing so, Marathok inherited the noble's wealth, staff, and estate upon the noble's death. By doing so, he gathered a small fortune and access to a collection of underlings willing to serve him out of dedication to his family.
Minions. Marathok doesn't keep many people close due to their unique nature, choosing a select few assassins who work within the house under the promise of pay. Beyond these assassins are the 'failed experiments' that are kept in the manor's basement. These are golems that were unsuccessful attempts at recreating the intellect of Marathok.
Secret. The intelligence of Marathok is not due to the strange arcane nature of his creation. He was the result of powerful divine magic in conjunction with the summoning of the golem form.
Lair. The Mask resides within a large country estate approximately a half days ride from the nearest town or city. There are four floors to the primary part of the manor and a set of three towers that go up for another two floors each. The basement of the manor is held behind a huge, locked gate which is reinforced from the inside as if to keep something in rather than keep things out.
Campaigns with Marathok. In terms of narrative, it is recommended to slowly seed in the idea of corpses going missing building up to people going missing in a local village, town, or city. Marathok's persona as The Mask could easily be involved in a large public festival as a mysterious patron providing funds for the celebrations.
The Mask (Marathok)
Medium construct, neutral
Armor Class 13 (natural armor)
Hit Points 102 (12d8 + 48)
Speed 30 ft.
| | | | | | |
| --- | --- | --- | --- | --- | --- |
| STR | DEX | CON | INT | WIS | CHA |
| 20 (+5) | 10 (+0) | 19 (+4) | 14 (+2) | 10 (+0) | 11 (+0) |
Saving Throws Int +5
Damage Immunities lightning, poison; bludgeoning, piercing, and slashing from nonmagical attacks that aren't adamantine.
Condition Immunities charmed, exhaustion, frightened, paralyzed, petrified, poisoned.
Senses darkvision 60 ft., passive Perception 10
Languages Common
Challenge 8 (3,900 XP)   Proficiency Bonus +3
Immutable Form. The Mask is immune to any spell or effect that would alter its form.
Magic Resistance. The Mask has advantage on saving throws against spells and other magical effects.
Reckless. At the start of its turn, The Mask can gain advantage on all melee weapon attack rolls during that turn, but attack rolls against it have advantage until the start of its next turn.
Spellcasting. The Mask's spellcasting ability is Intelligence (spell save DC 13, +5 to hit with spell attacks). It can cast the following spells:
At will: fire bolt, sacred flame
3/day: bane, inflict wounds
Actions
Multiattack. The Mask uses screech if it's able. It can then make three shortsword attacks and one slam attack.
Slam. Melee Weapon Attack: +8 to hit, reach 5 ft., one target. Hit: 14 (2d8 + 5) bludgeoning damage.
Shortsword. Melee Weapon Attack: +8 to hit, reach 5 ft., one target. Hit: 8 (1d6 + 5) piercing damage.
Screech (Recharge 5 – 6). The Mask opens its mouth to release a large burst of sonic energy. All creatures within a 30-foot radius must make a DC 15 Wisdom saving throw. On a failure, the creature takes 13 (2d12) thunder damage and is deafened and frightened for 1 minute. On a success, the creature takes half the damage, and is not deafened or frightened. A creature who succeeds against the saving throw is immune to the frightened condition in the same method for the next 24 hours.
Bonus Actions
Manifest Duplicate. The Mask uses a strange glowing gem in its chest to manifest a duplicate of itself in an unoccupied space it can see within 15 feet. The duplicate has 1 hit point and an AC of 10. While the duplicate is in place, The Mask can use a bonus action to swap places with the duplicate.
Naya Lorehold-Moore
Female elf, lawful evil
A smile creeps along the face of the elven figure as a single word slips out of her crooked smile. "Patience." Something about it seems powerful yet calming. The elegant silks that fall across her form seem to move upon the phrasing of the word as if rippling from the sound itself.
Description. Elegant and tempered, Naya has long black hair, often tied up in a collection of braids. Her hair is pierced by the set of horns that protrude from the sides of her head. These horns curl up to a single point, almost forming a teardrop above her head, a symbol of her infernal heritage. Naya has a voice filled with eloquence, her speech soft and gentle, yet always commanding, as if a room full of people is to listen exclusively to her.
Motivation. Despite indications that her path may be righteous and good, Naya craves power. Where others have seen the experiments of other arcane users and wished to never recreate their failings, Naya wants to prove herself by succeeding where others failed. Her latest obsession is the creation of pure immortality without the complex trappings of any known methods.
Method. Naya's desire for power within the arcane is fueled by a study and apprehension of new and more powerful arcane equipment. This could take the form of ancient tomes, spellbooks of other powerful casters, or artifacts fueled by any source of magic.
Means. Naya is the child and sole heir of two powerful noble families and, as such, has a vast amount of wealth and respect on a national level, particularly as she holds an advisory role on matters of the arcane with the national leadership. This means that she can curry favor with other local lords or even petition the national leadership for anything that she can twist to be perceived as for the benefit of those around her.
Minions. As an arcane practitioner, Naya has taken on several apprentices. They were charmed by her silver tongue and have since been beset with tasks that would provide Naya with another element to further her power. Naya is also known to send bands of mercenaries and sell-swords to find artifacts or seek out those who have betrayed her trust.
Secret. Naya has spent much of her life alone, particularly after the passing of her parents. Her pursuit of power is based on knowledge she received from her father on his deathbed. In his dying breaths, her father spoke of a curse on their family that had been placed by a powerful coven that would seal her as the last member of the family line.
Lair. Naya lives in a large stone tower with six floors. The tower itself was specifically crafted to confuse and trick those who entered it for the first time or without Naya's permission. Some corridors may seem to have no end, with doors appearing and disappearing at random times. The top floor seems to be reserved and locked off by magical means for Naya. This floor contains many of the things that Naya wishes to keep hidden, including tomes, the beginnings of rituals, and other such items.
Campaigns with Naya. In her position of power, Naya can be introduced and work as a helping presence for adventurers, potentially even acting as a patron. Her obsession with power should act as a secret or secondary aspect of her person that adventurers should discover over time. A recommended story arc is having Naya build towards a powerful ritual that would enable her to attempt to achieve her final goal of eternal life.
Naya Lorehold-Moore
Medium humanoid (elf), lawful evil
Armor Class 15 (studded leather)
Hit Points 78 (12d8 + 24)
Speed 30 ft.
| | | | | | |
| --- | --- | --- | --- | --- | --- |
| STR | DEX | CON | INT | WIS | CHA |
| 10 (+0) | 17 (+3) | 14 (+2) | 15 (+2) | 11 (+0) | 20 (+5) |
Saving Throws Dex +6, Cha +8
Skills Deception +8, Perception +3, Performance +8, Persuasion +8
Damage Resistances fire
Senses darkvision 120 ft. passive Perception 13
Languages Common, Elvish
Challenge 3 (700 XP)      Proficiency Bonus +3
Arcane Wards (3/day). Naya can call on powerful connections to the arcane to nimbly escape from danger. She can innately cast teleport with no components. This teleport connects to any of three wards that she can place but nowhere else. She can use an action to change the location of a ward to another location she can see.
Convincing.Whenever Naya makes a Charisma (Persuasion) or Charisma (Deception) check, any roll of a 9 or lower is treated as if it were a 10.
Spellcasting. Naya's spellcasting ability is Charisma (spell save DC 16, +8 to hit with spell attacks). She can cast the following spells:
At will: charm person, command, minor illusion, vicious mockery
3/day: compulsion, fear, suggestion
1/day: confusion, dominate person
Actions
Multiattack. Naya makes two enchanted dagger attacks. She can replace one attack with a use of spellcasting.
Enchanted Dagger. Melee Weapon Attack: +6 to hit, reach 5 ft., one target. Hit: 5 (1d4 + 3) piercing damage and 7 (2d6) psychic damage.
Bonus Actions
Agitate (3/Day). Naya targets one creature within 30 feet of her. If the target can hear her, they must succeed on a DC 16 Charisma saving throw or take 4 (1d8) psychic damage and subtract the psychic damage taken from their next saving throw.
Regent Qiranvor of The Palecrow
Androgynous panther (fey), chaotic neutral
The flash of green pierces the darkness of the jungle. In a single stride, a dark shadow steps forwards, its frame covered in large descendant jewellery. In part a crown, in part a mantle of leaves, it seems to blow in the wind, and yet no sound can be heard. The maw of a large feline creature steps into the light, fangs bared, a frenzied look on its face. After a moment, a noise pierces the silence. "Hello there."
Description. This panther has emerald green eyes that seem to glow in the moonlight and silky black fur that is straightened and unmatted. Due in part to its physical form, people are greatly surprised when they hear a regal and powerful voice emanating from the maw of the panther. When in their original form, Qiranvor is adorned with black furred cloaks and still possesses the strong green in their eyes.
Motivation. Granted access to this plane long ago as a means to escape the complexities of court business, Qiranvor wishes to cause chaos wherever they step. The idea came to mind of starting a collective of those following them in the form that they find themselves trapped in.
Method. Qiranvor has started to achieve the goal of chaos by manipulating those of a pious nature to follow them as a perceived religious figure. Not only does this gather people to their cause and raucous parties, but it also grants additional power to Qiranvor.
Means. Qiranvor is not one for powerful magics, instead trusting their powers of speech. As such, the majority of the means they have obtained have been donated by those who surround them. This includes not only material wealth but access to those who have powerful magic themselves.
Minions. The majority of those who surround Qiranvor are essentially cultists that they have gathered to their eternal party. Some of them have access to magic which would allow them to protect Qiranvor in a greater way, but the majority of them carry no weapon other than their goblet. From time to time, Qiranvor sends some of their followers out into the world to gather things to keep the eternal party going. Some return, some don't, and that is of no difference to Qiranvor.
Secret. Qiranvor was born as a powerful heir within the plane of the fae; this means that at one time they possessed a large amount of magical prowess. However, in the transition from one plane to another, they lost access to their magic and remained within this panther form.
Lair. Qiranvor and his cultists have staked their claim deep in a set of jungles, crafting a small settlement built directly into the trees above them. Initially just containing a single temple, the settlement grew to contain over thirty houses for the regent's followers.
Campaigns with Qiranvor. On the scale of villainy, Qiranvor stands as a more antagonistic force rather than a direct villain. Though, the introduction of a strange intelligent panther who convinces people to leave their homes and join an eternal party will likely gain the interest of many adventurers. Qiranvor could also work as an obstacle between a group of adventurers and their next quest, challenging the adventurers to trails to obtain items, just to reveal they never had it in the first place.
Qiranvor
Large fey, chaotic neutral
Armor Class 13
Hit Points 105 (14d8 + 42)
Speed 50 ft., climb 40 ft.
| | | | | | |
| --- | --- | --- | --- | --- | --- |
| STR | DEX | CON | INT | WIS | CHA |
| 16 (+3) | 17 (+3) | 14 (+2) | 13 (+1) | 10 (+0) | 19 (+4) |
Skills Perception +3, Persuasion +7
Senses darkvision 60 ft., passive Perception 13
Languages Sylvan, Common
Challenge 3 (700 XP)      Proficiency Bonus +3
Fey Ancestry. Qiranvor has advantage on saving throws against being charmed, and magic can't put Qiranvor to sleep.
Magic Resistance. Qiranvor has advantage on saving throws against spells and other magical effects.
Pounce. If Qiranvor moves at least 20 feet straight toward a creature and then hits it with an attack on the same turn, the target must succeed on a DC 12 Strength saving throw or be knocked prone. If the target is prone, Qiranvor can make one bite attack against it as a bonus action.
Actions
Multiattack. Qiranvor makes two claw attacks and one bite attack.
Bite. Melee Weapon Attack: +6 to hit, reach 5 ft., one target. Hit: 5 (1d4 + 3) piercing damage.
Claw. Melee Weapon Attack: +6 to hit, reach 5 ft., one target. Hit: 5 (1d4 + 3) slashing damage.
Get Access to 1000s of Free 5e Resources!
Sign up for the DM Lair Newsletter to instantly get access to our entire library of free 5e resources. We'll also send you new resources every week!