Creatures of a Faraway Land Part 2 | 5e Monsters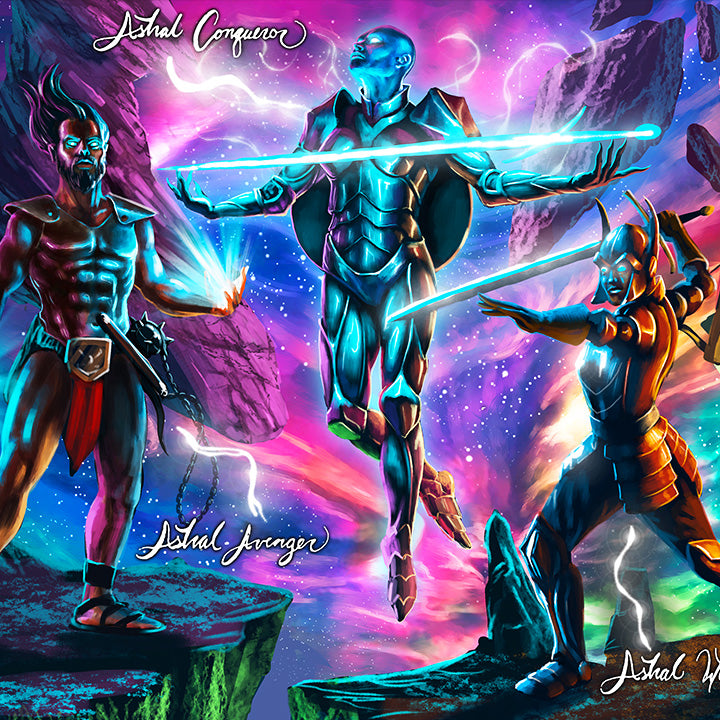 By Hana the Lorekeeper
The same old 5e monsters game after game can get stale. Drop any of these 5e monsters into your game to give your players a fun surprise!
By the way, if you'd like to get instant access to 1000s of free 5e resources, don't forget to sign up for the DM Lair Newsletter. We'll even send you new stuff every week!
Creatures of a Faraway Land Part 2
In faraway lands, some creatures only exist there because of chance or climate. But did you know that a merchant ship from Fóbaér just docked? Who knows what creatures, treasures, and stories they have brought back with them? Read on to find out!
Perusen Biting Plant
The sticky sweet smell of sap draws in a giant rat, its nose twitching intensely as it is drawn into the forest to a large, jaw-like flower that drips with nectar. A pink tongue flicks out, tasting the sweet substance, but before the rat can do anything else, the flower snaps shut, trapping its new meal inside to be slowly digested.
Unsavory Origins. Rumor has it that this plant is the result of a fey lord combining a crocodile, a venus fly trap, and a nosy underling that he caught having an affair with his wife's sister. Since then, this bite-happy plant has spread onto the Material Plane to all corners of the world. They are rarely found in places with extreme temperatures, settling in places with temperate climates.
Perusen Biting Plant
Medium plant, unaligned
Armor Class 8 (natural armor)
Hit Points 22 (4d8 + 4)
Speed 0 ft.
| | | | | | |
| --- | --- | --- | --- | --- | --- |
| STR | DEX | CON | INT | WIS | CHA |
| 12 (+1) | 1 (-5) | 12 (+1) | 2 (-4) | 3 (-4) | 1 (-5) |
Skills Perception -2
Damage Vulnerabilities fire
Damage Immunities poison, bludgeoning
Condition Immunities blinded, charmed, deafened, frightened, paralyzed, poisoned
Senses blindsight 30 ft. (blind beyond this radius), passive Perception 8
Challenge 1/2 (100 XP)  Proficiency Bonus +2
False Appearance. While remaining motionless, the biting plant is indistinguishable from an ordinary flower.
Sticky. The biting plant adheres to anything that touches it. Ability checks made to escape this grapple have disadvantage.
Sweet. The biting plant exudes a sweet aroma that attracts prey and makes it difficult to attack. Creatures that start their turn within 20 feet of the biting plant or come within 20 feet of it must make a DC 11 Wisdom saving throw or suffer disadvantage on all attack rolls, saving throws, and ability checks until the start of their next turn.
Reactions
Snap Trap. Melee Weapon Attack: +4 to hit, reach 5 ft., one target. Hit: 5 (1d8 + 1) piercing damage + 2 (1d4) acid damage. If the target is a Medium or smaller creature, that creature is grappled (escape DC 11) and trapped by the plant, and the plant can't trap another creature. While trapped, the creature is blinded and restrained, it has total cover against attacks and other effects outside the plant, and it takes 7 (2d6) acid damage at the start of the plant's turns. If the plant dies, a trapped creature is no longer restrained and can escape from the corpse using 15 feet of movement, exiting prone.
Ice Boar
Rooting through the underbrush and snowbanks for food, patches of white frost gather on the back of this large hog. Hidden behind a tree, a hunter trains her arrow on the boar, knowing the corpse of this being could feed a starving village. She breaths in, breaths out, and releases her shot. But instead of an easy kill, ice-blue eyes swing towards the elf, the arrow having barely sunk into its ice-encrusted hide. It screams and rushes the startled hunter, icy tusks seeking to return the favor.
Prey or Predator? This massive creature is an omnivore, consuming leaves, carcasses, and whatever it can find. While it is the favored prey of frost giants and winter wolves, ordinary hunters who try and kill one will have to be careful and precise, or else the wrath of this mighty monster will chase them all the way back to town.
Ice Boar
Large beast, unaligned
Armor Class 15 (natural armor)
Hit Points 68 (8d10 + 24)
Speed 50 ft.
| | | | | | |
| --- | --- | --- | --- | --- | --- |
| STR | DEX | CON | INT | WIS | CHA |
| 18 (+4) | 11 (+0) | 17 (+3) | 5 (-3) | 7 (-2) | 4 (-3) |
Saving Throws Str +6
Skills Athletics +6, Perception +0
Damage Immunities cold
Senses passive Perception 10
Challenge 3 (700 XP)      Proficiency Bonus +2
Charge. If the boar moves at least 20 ft.feet straight toward a target and then hits it with a tusk attack on the same turn, the target takes an extra 10 (3d6) slashing damage. If the target is a creature, it must succeed on a DC 13 Strength saving throw or be knocked prone.
Siege Monster. The boar deals double damage to objects and structures.
Actions
Tusk. Melee Weapon Attack: +6 to hit, reach 5 ft., one target. Hit: 14 (3d6 + 4) slashing damage + 3 cold damage.
Armored Ground Sloth
"The armored ground sloth is a peaceful being, mostly preferring to spend its time hunting for insects, fruits, and other sustenance. However, the demand for their armored carapaces has driven the species to extinction in many places." – exerpt from Creatures from Faraway Planes, by Archmage Zula Cambír
Gentle Giant. This being is protected from all but the most desperate predators thanks to the scute-like armor that covers its vulnerable areas. They typically live in areas that experience wet, mild winters and wet, warm summers.
Armored Ground Sloth
Medium beast, unaligned
Armor Class 20 (natural armor)
Hit Points 76 (9d8 + 36)
Speed 15 ft.
| | | | | | |
| --- | --- | --- | --- | --- | --- |
| STR | DEX | CON | INT | WIS | CHA |
| 17 (+3) | 7 (-2) | 18 (+4) | 3 (-4) | 12 (+1) | 5 (-3) |
Skills Perception +3
Senses passive Perception 13
Challenge 4 (1,100 XP)   Proficiency Bonus +2
Careful Footed. The sloth can move through difficult terrain without making a check or spending extra movement, and hazards such as thorns, caltrops, and spikes do not cause it damage.
Keen Senses. The sloth has advantage on Wisdom (Perception) checks that rely on hearing or smell.
Slow. The sloth is immune to spells or effects that would lower its speed.
Actions
Multiattack. The armored ground sloth makes two claw attacks.
Claw. Melee Weapon Attack: +6 to hit, reach 5 ft., one target. Hit: 16 (2d12 + 3) slashing damage.
Get Access to 1000s of Free 5e Resources!
Sign up for the DM Lair Newsletter to instantly get access to our entire library of free 5e resources. We'll also send you new resources every week!